A page is added with some great posters in a vintage retro space art theme. I try to find at least 50 good ones, because Zazzle is a numbers game. You probably heard that often. It is all about getting found. Either by having a lot of products designed by yourself. Or promoting a big bunch of very good designs made by others and making money as an affiliate.
When I started with Zazzle I was thinking in tens of products with a design. Later I realized this wasn't enough, sales were and still are very sporadic. End of 2012 I set a goal of 400 products. That really didn't help much. Now I'm convinced I have to think in the thousands. Which means heavy use of templates in Zazzle in order to get a 100 products published in one go.
Vintage retro space art
For the affiliate program I want to create a couple of page of designs I like. My guess is that I can get away with about 500 designs of other people on this website, maybe a thousand. Any more and people will overlook most of them anyhow. My second page has a vintage retro space art theme. I'll try to increase the number up to a 100.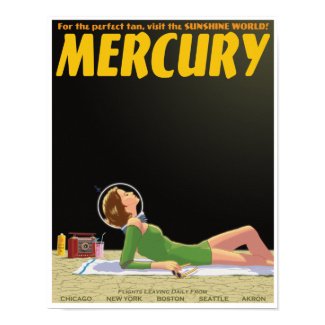 The Sunshine World Poster
by
mooncity
View Retro Posters online at
zazzle
Barcelona tile pattern
last week I also finished a new Barcelona tile design. Again I think it succeeded pretty well. I was able to publish about 80 products in one go, so I still have to work on my templates. It is still far behind the numbers succesful Zazzle sellers have published. They count in the tens of thousands. Of one person I knows she's working full time on her Zazzle store. Every day one design, put on about a hundred products.
Barcelona tile red octagonal pattern MacBook pro sleeves
by
ejkaal
Browse other
Barcelona MacBook Sleeves
My production of designs and products has increased considerably and the affiliate link pages have begun. Next project will be Pinterest. To showcase my designs and to promote other people designs.