One way to make a buck is to market cool iPhone cases from other Zazzle stores. This is done by means of the affiliate program of Zazzle. In your Zazzle account you'll find a unique number which you add to the link of the product on your website. Or better. Log on to Zazzle, find those cool iPhone cases and use the "share" button to retrieve the URL/HTML-links with your affiliate code included.
Getting the links with the affiliate code is the easy part. How to use them in a clever manner is a bit more difficult. One solution I saw with a successful Zazzle seller is to create a web page and fill it with a selection of products with design you think are well executed. For instance Apple iPhone or Samsung cases with a retro space theme. Here's an example;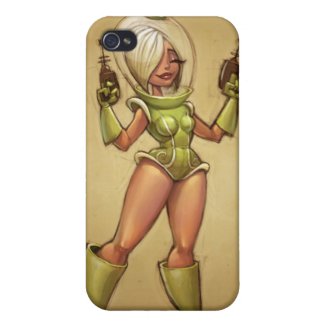 Space Dame iPhone Case Covers For iPhone 4
by
DrewHillStore
Browse additional
iPhone 4/4s Covers
at Zazzle
If you search on Zazzle you'll see most of the design aren't very well made, even though they are popular according to Zazzle. That gives you the opportunity to create a selection of cool iPhone cases which are both popular and well executed. I've put my selection on a separate page on this website.
Yet another solution is Pinterest. Here you can collect images and categorize them the way you like. Pinterest groups images (and other media) into "boards". You can make a board for cool iPhone cases with a retro space theme and let them link to Zazzle with your affiliate code. On Youtube there are plenty tutorial how to create a board.
I've no Pinterest account myself yet, but I can see the potential for showing of affiliate products or your own products. Anyway, I just started with this affiliate business and I probably have to create a whole bunch links and images with my affiliate code before I even make a dime. And I have to start to get some traffic to those links.