One type of illustration always did very well and that was my Haida salmon, I therefor added a Haida art Thunderbird. In fact, I use the Haida Salmon as my logo. This salmon did very well and I like the aspects of a salmon. Swimming against the stream and against all odds.
It took me a fair amount of time to get the salmon done, but I decided to create a bit more ambitious project. Again, it is a recreation of an example I saw on the internet. A tedious job which took me a couple of months, just an hour work now and then. I kept putting of finishing the damn bird. The end result is not to bad I guess.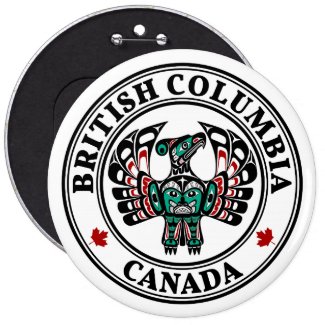 Northwest Pacific coast Haida art Thunderbird Pins
by
ejkaal
View another
pin button
online at Zazzle.
Probably the most important reason I found this job more tedious than all the other projects is that I really don't know Haida art works. Why are the elements constructed the way they are? Well, you can read about ovoids and u-shapes and stuff, but how do you put this all together?
Day 1: Formline Workshop with Steve Brown from Kathy Dye on Vimeo.
By chance I stumbled upon a workshop by Steve Brown which was taped and put on the internet. It is video of two days and together you have to watch 6 hours of footage. But for anybody who wants to make a go at Haida art, this is probably the best start you can make. And I did watched it completely.
That was after I finished my Haida art Thunderbird. Looking back it doesn't seem that excellent because my Haida art Thunderbird doesn't follow the set of rules very well. Nevertheless I'll put the illustration on Zazzle and Cafepress products since people like this type of art.
One thing about Haida art is that it suits vector art very well. So I ventured to get myself better acquainted with Formline art. I hope to get that way better quality illustrations which sell, without losing the convenience of vector art.